INTRODUCTION: We all know the scene from the film Mean Girls. Cady (played by the erstwhile promising  Lindsay Lohan) attends a public high school for the first time, and she is invited to eat lunch with the coolest and meanest girls at her high school–queen bee Regina George (Rachel McAdams), beta brunette Gretchen (Lacey Chabert), and airhead (Amanda Seyfried). Nicknamed the Plastics, their clique is about loyalty amongst one another, fierce competitions with each other, and a variety of self- and society-imposed rules based on their status as upper-middle class, conventionally attractive, straight, cis-gendered, white, young women.
One of their most steadfast rules is: 
On Wednesdays we wear pink. 
Tina Fey's screenplay, based on the pop-psychology self-help guide Queen Bees and Wannabes by Rosalind Wiseman, is a clever social satire of teenage cliques as infiltrated and viewed by outsiders–most notably, Cady, who finds herself seduced by her new popularity (and failing math to impress a boy!), as well as her more obviously outsider  (coded as goth, artsy, gay) friends: Janis and Damien, and Tina Fey as the caring but nerdy math teacher Ms. Norbury.
Throughout the film, we see the societal demands placed on women to be pretty, always pretty, and never too smart: Ms. Norbury and Cady are both hot-when-you-take-off-the-glasses math nerds; Amy Poehler is fantastic as a former Mean Girl turned horrible "cool mom"; Regina loses rank when she gains a few pounds; Regina's little sister is the precursor of Honey Boo Boo; and all the girls in the high school whose bodies do not conform to the conventions of the Plastics are queered and silenced bodies. It is not until the melee in the third act and the shared crown resolution offered at prom that some of these other young women are even given lines or agency.
I always find Regina's conversion–from aggressive alpha female who torments her best friends to powerhouse lacrosse player who intimidates  the other team on the playing field–the most interesting. Her aggression is depicted as unfeminine and she finds an appropriately masculinist outlet playing a violent sport and physically harming other women's bodies. 
So, why do we, a bunch of adult feminist scholars wear pink on Wednesday? Because why not? Because we can. 
I think in our case, it's subverting the expectations: we are smart and we like to dress nicely. 
And yes, we sometimes even love to wear pink (some of us admittedly more often than others).
We are also in three different countries and across three different states, so it allows us to mark ourselves as part of our own sisterhood even if only we know we are wearing pink for each other's benefit.
And pink is so fetch.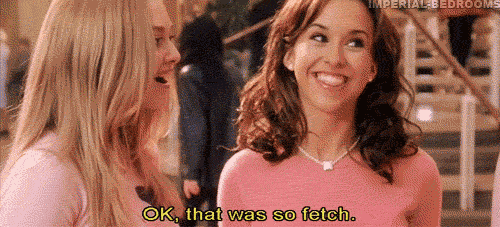 We tried to figure out which Mean Girl we were most like.  After a little soul searching and suggesting who we each were, we fell back upon our research skills. We each took the most accurate quantitative and qualitative approach, i.e. a Buzzfeed quiz: "Which Mean Girls Character Are You?" (We still don't understand how Cindy ended up as "the girl who looks like Danny DeVito.)
This slideshow requires JavaScript.
---
Alex: 
I own a fair amount of pink, but when it came to getting dressed on Wednesday I was already very flu-y, so the choice was obvious: giant hot pink cowl neck sweater and leggings.  This baby was my sister's in high school and has been mine for over a decade. It has a loose knit but it's very warm, and the cowl sits perfectly. I honor of J. Brendan's post on color which posted that day, I went for bright purple lips and silk scarf. Plus, my trusty black patent leather Converse to 'ground the look,' haha.
Alex is Damien. Though you aren't afraid to be yourself, you often find yourself in awkward situations. Your friendliness is what gets people through the day, and you'll support the people you love no matter what.
Cindy:
So, I was pretty sure I didn't own a lot of pink, but it turns out that as I was packing for Budapest (where we shot this picture; thanks Sonnet for the camera work) I realized I own more than I remember. This is my favorite pink thing I own, also known as "If I wear this on a date with you, I probably like you." What a complicated relationship with clothes we have.
specs: pink floral print pseduo-80s style dress from Forever 21, Uniqlo/TamTam leggings over Veritas wool tights (girl gets cold), that same long cardigan I wore at my real job, and trusty non-blister-angering Reef boots that work well for traversing the streets of Budapest.
Here's the dress in action from when we randomly shot bows at Buda castle.
Cindy's WHYME Mean Girls Alter Ego:
Cindy is That Girl Who Looks Like Danny DeVito. People probably confuse you for Danny DeVito. Sorry!
Colleen: 
I own and wear lots of pink, and several very feminine pink lady dresses.  Like Molly Ringwald, I do not believe that redheads shouldn't wear pink. 
Dress (Uttam Boutique, bought at Revival in Iowa City). I love the Pucci-esque print, the vivid pink flowers, the deep orange geometric designs, pockets (yes!), and the defined waist. The top is always a little poofy, but sometimes I cinch in the waist even more with a black belt.
Pink Cardigan (New York & Co.); Red character shoes (Amazon); black tights (H&M); black and white rain jacket (Banana Republic); lips (Passion Pop by Clinique). SOTD: Peoneve by Penhaligon's
My Mean Girl's Doppleganger is exactly who I was in high school: artsy, goth-lite, sarcastic and acerbic, and just as mean as the popular kids but in a different way.
Colleen is Janis Ian. You're extremely creative, and you're not afraid to be yourself. You often speak your mind, and that's totally refreshing. You'll probably be really famous one day.
Sonnet: 
As a femmey-ish queer activist lady, I can confidently say I own a TON of pink (and not just t-shirts with pink triangles on them). My favorite shirt is my (now ratty) "Feminist Killjoy" baseball-t that has pretty pink flowers on it. I probably wear it every other day.
That being said, this week I opted for a subtle dusty rose faux-suede skirt from H&M paired with a linen-y denim crop top and two bulky sweaters- one vintage and one from Forever 21. I'm rocking a pLaura Mercier's Paint Wash Liquid Lip Color in Petal Pink, and Nars's blush in Desire. I wore denim every day (hence crop top) in Budapest to accompany an article I am currently writing on the Black Market Jean Trade during the Cold War (more to come on that topic)!
I thoroughly hope we wear pink more, because I love the color, the political aspects of feminists wearing pink (Yeah, that's right! We're reclaiming that shit!), and the historic symbolism of the color pink to queer liberation movements. Plus there's the whole vag power and pink thing, so… YAY WOMEN!
Sonnet is Regina George.  You're extremely determined and will do anything to reach success. You're also a little controlling, but that's totally okay, 'cause it's just proof that you'll go far in life.
Taneem: 
Like Cindy, I wasn't sure how much pink I actually own. But, I found some potentially pink-ish things. Like, eh, I guess pink. Which, I felt like worked for this assignment, because according to Buzzfeed, I'm too cool for the Plastics anyway. Plus, my shirt does have pink birds on it, which counts double imo. Also, totally copped Alex's style with the two full-length shots here.
Outfit specs: Thrifted cardi (brand = Dress Barn), thrifted shirt (brand = Sonoma. hey walmart? kohls? hey), gifted scarf (dunno brand, but my bf's mom got it for me, so it's pretty nice), H&M belt, Old Navy jeans, Crown vintage boots, Express bracelet, earrings handmade by my friend Varsha, emo attitude courtesy of a seven hour drive.
Taneem is Aaron Samuels. You're incredibly sincere and cool, and you've got a solid group of friends who absolutely adore you. Your hair also looks sexy pushed back.